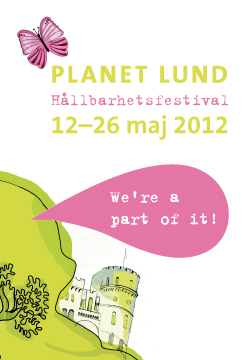 This week Wake-Up Call is in Lund, the city where our company was founded three years ago. The reason for revisiting our "birthplace" is that Wake-Up Call is involved in arranging "a night of inspiration for a more sustainable society", to quote the Facebook page for the event happening this Thursday afternoon. The event's programme is made of two parts – an inspirational presentation and a practical workshop:
Session 1: "Youth Climate Action": This session aims at highlighting inspiring stories and successes of young people, from all over the world, passionate to change the world.
Session 2: "Redesign the World": In this workshop participants will take on the role of social entrepreneurs as they start ideas for a better world.
The evening is free of charge and the participants do not need to pre-register in order to participate. Both activites will be held in English. We will be offering free snacks and non-alcoholic drinks during the break.
We want to thank our amazing partners: Hållbart Universitet – Lund Students for Sustainability, the City of Lund, and Ungdomsforum för Agenda 21 (UFO). Without their support and contribution this event would not be possible.