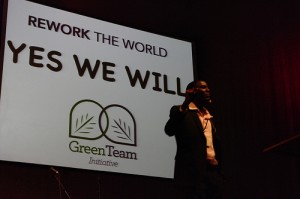 For the past four days over 1,700 social entrepreneurs, politicians and investors gathered in Leksand for the summit "Rework the World". The even was organised by Tällberg Foundation and the network YES (Youth Entrepreneurship and Sustainability), and was the biggest gathering of this kind that ever happened in Sweden. The ambition and the vision were to create millions new sustainable jobs for the world's youth. We (that is Oleg and Sven) were there too, accompanied by a team of our capable interns, Carl, Sophie and Josefine.

"The organisers had identified 150 projects and social enterprises with an enormous potential to make a difference and create jobs for young people", says Oleg. Those were highlighted and presented during the summit's many workshops and seminars. "There's products and services that can really make a difference on the global level. We were fascinated by, among others, Peepoople and EEMPC. Peepoople presented a cheap and environmentally-friendly solution for sanitation that has a potential to save many lives in the Global South, while EEMPC recreates the entire ecosystems previously thought to be lost forever. Social entrepreneurship is an important part of a sustainable society and more and more people become aware of it. Politicians, investors, media and academia are very welcome to hurry up and recognise this development", insists Oleg.
Sven Heijbel is satisfied with the fact that social and environmental crises and the youth unemployment are recognised as important issues in the election campaign in Sweden and received enough attention at the summit. Still, he was slightly critical about the event's proceedings.
"We were many that thought that the organisers hadn't worked hard enough to adapt the summit's format to the aims it claimed", he says. "1,700 fantastic brains were gathered together and we wished they were used more efficiently to solve the challenges and remove the bottlenecks of the top identified projects. Conversations and analysis got more space and time than the more practically-oriented problem-solving, like so many times before. At the same time the human capital of the event was very impressive and invaluable. Our inspiration is now reaching new heights and the development of Wake Up Call's own projects was obviously catalysed as a result of this summit, thanks to our new partnerships and ideas", concludes Sven.